The Depot's Famous Garbage Wings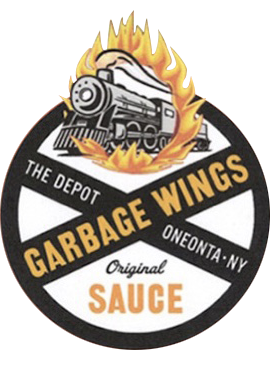 The Story Behind Our Unique Chicken Wing Sauce
Several years ago, on a quiet afternoon in The Depot Restaurant kitchen, an experiment in the combination of various ingredients and sauces yielded a decidedly different, hot, tangy and altogether taste-bud tantalizing creation.
In an equally creative burst of inspiration, it became known – then and forever – as The Depot's Garbage Wings® sauce.
As popular with long-time patrons as it is with Oneonta's local college population, Garbage Wings® soon became the signature dish and the centerpiece to an evening's fun.
The Depot was already known for its unique preparation of its wings, but since the sauce was introduced, fans have journeyed miles (in some cases, hundreds of miles) to experience the taste.
It wasn't until late in 2012 that owner, Judy Hurlburt began bottling the sauce. But, the reaction has been enthusiastic and overwhelming!
Since that day the love for Garbage and Hot Garbage sauce has only grown. While no longer available in bottles, you can still drop by the restaurant any time we are open and buy either sauce by the pint!
Below are some recipes we suggest trying out in your own kitchen, but the possiblities with Garbage Wings® Sauce are endless!
Ingredients
Pork Tenderlion (sliced thin)
Garbage Wings® Sauce
Instructions
Generously oil grill, once hot, sear tenderloin for 2 and half minutes on each side. Once first sear is done, baste tenderloin in Garbage Wings® Sauce. Once the tenderloin is full cooked, take off the grill and baste again with Garbage Wing Sauce. Serve 4-5 tenderloins per person.
Ingredients
Uncooked Chicken Wings (serving size is 12 wings)
Garbage Wings® Sauce
Instructions
Preheat oven to 375 degrees. Spray your baking sheet with a non-stick spray.  Once oven in preheated, place wings evenly on baking sheet. Bake the wings for 25 to 30 minutes, internal temperature should be 165.  After cooked, place wings  in bowl with 4 oz of sauce and toss gently. 
Ingredients
1 ½ lb. Chicken breast
1 lb. Cream cheese
3 Cups of shredded mozzarella
1 Bottle of Garbage Wings® Sauce
1 Bottle of your favorite blue cheese dressing
4 oz. Chicken stock or broth
2 oz. Shredded cheddar
Pinch of parsley
Pinch of paprika
Instructions
Pre-heat oven to 500. Season chicken with salt and pepper, once oven is pre-heated bake chicken for 25 minutes. Baste chicken with 4 oz. of chicken broth or stock. Combine cream cheese, Garbage Wings® Sauce and blue cheese, in a medium size sauce pan at low to medium heat, whisk together until smooth consistency (about 10 minutes). Shred chicken and combine with mozzarella, add chicken and mozzarella to the cheese mixture you made on the stove. Top the dip with cheddar cheese and broil for 2 minutes. Garnish with parsley and paprika.